Gwen will be the cover for Music Connection magazine September isse, and they have a brand new interview with her and you can read it all here at EIT. Once the magazine is out we will try to add the scans to the site.
*Update: We have added the cover issue, it's not a new shoot, it's from the album photoshoot by Jamie Nelson.
.@gwenstefani will grace the cover of our September issue starting on Wednesday! (photo: Jamie Nelson) pic.twitter.com/Nc2P4nDLx6

— Music Connection (@musicconnection) August 22, 2016
Stay tuned for our launch of the September issue: get candid with @gwenstefani, find out how you can license music for a living and more!

— Music Connection (@musicconnection) August 29, 2016
Get candid with pop diva @gwenstefani in our September cover story. https://t.co/AK1oAQ2oMR

— Music Connection (@musicconnection) August 29, 2016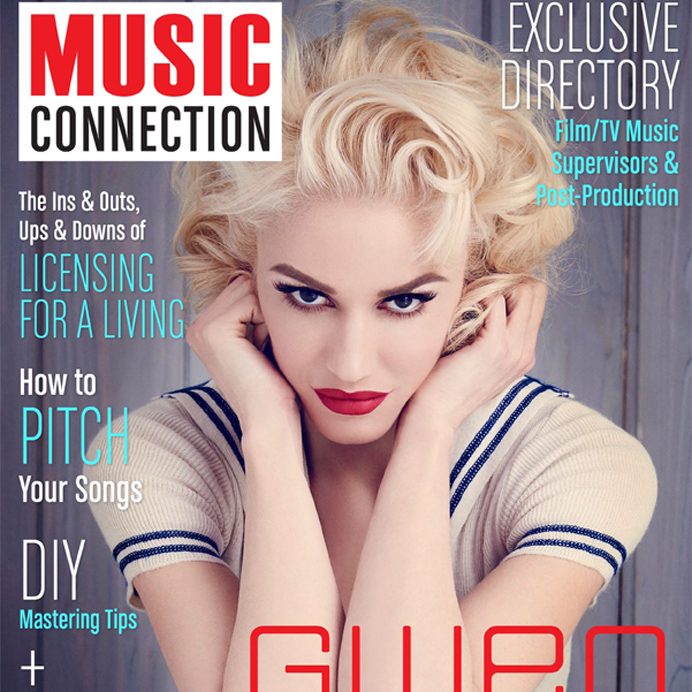 GWEN STEFANI is in a burbly and chatty mood on a mid-day phone call with reporters to promote her ambitious This Is What The Truth Feels Like Tour. There's plenty to talk about, of course; for Stefani the past few years have seen reunions of her band No Doubt, the troubled pursuit of her third solo album and a nasty, tabloid-filling divorce from Bush's Gavin Rossdale, her husband of 13 years.
Fortunately, the singer, songwriter, occasional actress and fashion entrepreneur has made a, well, sweet escape from the turmoil and into happier terrain all the way around. That includes the deeply personal This Is What The Truth Feels Like album, which debuted at No. 1—Stefani's first as a solo artist—upon its mid-March release. She's in a new and very publicly happy relationship with country star Blake Shelton after the two met while judging TV's The Voice, and their duet "Go Ahead And Break My Heart" gave Stefani her first-ever appearance on the country charts.
The tour, meanwhile, kicked off July 12 in Mansfield, MA, and will have Stefani and her array of dancers and special effects as well as opener and guest Eve blowing minds until at least October, and probably beyond. She's still grappling with some of the darkness that brought her here, but Gwen Stefani sounds positively buoyant, even a bit defiant, and excited to talk about what she's learned about songwriting and performing her own material.
Music Connection: This Is What The Truth Feels Like is obviously you digging deep and digging in, emotionally. What does the album represent to you?
Gwen Stefani: I feel like when I was at my darkest hour, I was trying to figure out, "What is the purpose? Why am I here? What is my gift?" and discovering that my gift is music and being confident in that and receiving these songs, I feel like [my purpose is] to share that now.
MC: You were working on another album that got scrapped before you made This Is What The Truth Feels Like. How did you get from there to here?
Stefani: I needed to do those. I felt so inspired during that time period. I mean, I created (fashion lines) L.A.M.B. and Harajuku during that time period. I had just gotten married. I then went on to have two babies during that time as well, so there was a lot of output, and it was such a creative time and there was no stopping me. I was just ready to go.
Then I came back and I wanted to do a No Doubt record. I felt like I needed to do the No Doubt record, but when I gave birth to Zuma they were like, "First, we're going on tour. That's how we're going to get inspired." I was like, "Okay. Let's go." So we went, and that tour, I think, almost killed me. At that point I felt really burnt out, physically, and I think mentally I felt so much pressure to make the No Doubt record, like it was all up to me. We were going to get in the room and there was not going to be any outside writers and I didn't feel secure enough to have outside writers, because I was starting my journey of insecurity basically at that point.
MC: It was pretty difficult to balance things that were happening in your life.
Stefani: Yeah, the next five years was a really challenging time. I had spent a lot of time trying to make the No Doubt record, but also trying to balance being a mom and a lot of guilt, like, "Okay. I'm going to go to the studio right now, but I'm going to miss dinner and I'm going to come home." It was a lot of that, and it wasn't helping my creative center at all. So I went through that for a long time, just finding out what is the purpose. And that's when I got pregnant with Apollo, and being pregnant with him was a time for me to just stop everything.
MC: And by stop you mean…
Stefani: I just stopped everything. I was like, "I'm done doing everything for everyone. I'm just going to be pregnant." And I gave birth to him, and four weeks later, I got called to [be a judge on NBC's talent series] The Voice, and that's when I was like, "Wow… I hadn't thought about doing something like that." And I just kind of went, "Yeah, let's go." I didn't even know what I was getting myself into.
And that was the beginning of the end of insecurity. I was on the show. I had this new baby. I'm around all this music. I'm looking at my life. I'm looking back at myself, at what I've done. It made me think about how many great songs I'd written and how much I'd accomplished and how did I do it? You know what I mean? And so my confidence was coming back slowly.
MC: Ironically, this was around the time you and Gavin split, right?
Stefani: Sometimes really bad things happen just so that really great things will happen, and I think that's what happened to me. It was like a wake-up call––"Get back on track and stop being insecure about writing and your gift and what you're here for, and stop being selfish and share what you've got."
It was really hard, because I just wanted to get under the covers and eat pizza and cry, but I went to the studio and this is what the new album is, and that's what I celebrate on tour––that I was put on this earth to write these songs. Everybody has their own purpose; for me, it's music.
MC: Is it a challenge to write songs that relate to fans who've been with you since '95 versus being accessible to today's young listeners?
Stefani: Well, it's not challenging when you're not trying to, you know what I mean? I think in the last five years when I was trying to write music I wanted to be on the radio. I wanted to have a hit. Like, who doesn't? But this record certainly wasn't about trying to find a sound or please anybody or, "Oh, the kids are going to like this." Do you know what I mean? And that's because of what I was going through, just trying to save my life and get through something I never thought I'd have to get through.
MC: Do you feel like there's a certain parallel between No Doubt's Tragic Kingdom and This Is What The Truth Feels Like, given the circumstances of romantic breakup that inspired each of them?
Stefani: I feel you, and it was like that. Because when I did Tragic Kingdom, you need to understand: I never wrote a song before I wrote those songs––nothing, never. The first song I ever wrote was "Different People," which ended up being on Obama's playlist. Like, I didn't even know how to write a song, and then that song just came out of me, you know what I'm saying? That's how that whole record was.
The difference was I never knew that anyone would hear it, ever, and I didn't know what that would feel like. It was too big of a dream to even dream. It was just kind of, "I'm making these songs, because they're coming out of me because I'm devastated that my best friend (No Doubt bassist Tony Kanal) doesn't want to be with me anymore."
The similarity is that I was also in a really desperate place doing [This Is What The Truth Feels Like], and I wasn't back to a place of naiveté and purity. It was, "All I have left right now is my music. And if I do that, maybe I'll survive." So, the way Tragic Kingdom was pure, this new record was pure. I was making this record because it's all I could do to save my own life.
On both albums, songs came in such a magical way. Like, I wrote "Make Me Like You" and the next day I wrote "Misery." I was writing two songs a day, where I couldn't even write a song for years. The songs were coming so fast, and a lot of the ideas were so simple. It was, like, "Wow." The best stuff is usually simple, if you think about it, but it's the hardest thing to do.
MC: The new album is so raw; were you worried about how it was going to translate, and how you were going to be able to sing those songs night after night in front of people?
Stefani: That's a really good question, because I was in rehearsals yesterday and I did "Used to Love You," and these songs, I feel like they were really channeled, I feel like God just handed them down to me as this kind of Band-Aid to help me through this crazy time in my life. And it's all kind of about, for me, finding your gift and then sharing it, but it is very draining.
MC: So what is it like singing these very raw, emotional songs?
Stefani: Super emotional. Satisfying and healing. … To be able to get up there on stage and feel that love and give that love to the audience, it's what I need to do and what I want to do, and I'm so honored to be able to have this opportunity. Because touring and getting any kind of attention, having anyone care about your music, you never take it for granted. You're always starving for it and wishing for it and dreaming for it, especially once you've tasted success. You can't stop.
MC: It's great to hear that you so appreciate your songwriting gift.
Stefani: It's incredible to be in the position to be able to be a songwriter and share your story with people and then have people relate to it, and then, it makes you feel better about yourself in your own life and you feel comforted. So I just am really in the moment right now.
MC: Would the punk rock girl, however many years ago, be laughing, hearing you talk about costume changes and expensive video production and everything?
Stefani: I don't think that girl would be laughing. I think she would be giddy with joy, because I've always cared about what I'm wearing on stage, whether it's one outfit or not. For me to be able to change, it's super exciting. I've always loved theatrics and art and fashion and it's now something that's new.
I think what's different now is I'm able to express myself in that way and not be held back playing by a punk rock rule. I think the attitude is still there.
MC: Sophie Muller did the visuals for the tour as well as the three videos from the album so far. What is your creative connection with her?
Stefani: Sophie is one of my best friends, and she's been honestly through a lot this year, which has been so crazy, and there was a lot of darkness. She was there for me, whether she was in Spain or London or whatever, we were always on Skype, and she helped me though this whole thing. And so to be able to do a music video now about a joyful love song was beautiful.
She's like a muse for me. I always want to impress her, because she's so artistic, and she's so different from me. She leads a life of being an artist, but she's not married and she doesn't have children, and she's just all about art and traveling and she's insane.
The second video was a one-take live moment for the Grammys for "Make Me Like You," which was an incredible thing for us to do, both of us, totally outside of our element. It wasn't like making a music video in the traditional way.
MC: "Misery" is a bit more of a traditional video, right?
Stefani: With "Misery" we had the luxury of doing a two-day shoot, which is totally luxurious these days. And we got to do what we love the most, which is just fashion and making beautiful images, and not having any rules. It was very much on the fly. We went downtown to the abandoned Sears building; it's all destroyed and creepy in there. We were there for two days and it was like an art project.
MC: With This Is What The Truth Feels Like and the tour, your personal and professional lives have in some ways become one and the same. How do you handle balancing the two?
Stefani: That's always been part of my journey. Tragic Kingdom was all about my personal life, and every single song I've pretty much ever written has been about my personal life, and I feel okay sharing that. The only place where I become more protective of it is really when it comes to the children, because at the end of the day, you don't want them be a teenager and go, "Oh, my God. Mom, why did you say that?!" or "Why did they say that about you?" That's where it starts to get tricky for me.
MC: Who were some of your early female music heroes?
Stefani: The first concert that I remember going to was Emmylou Harris at the Palomino Club up in L.A. For me, to get taken by my parents to L.A., to go to a weird bar club, and watch this most beautiful woman who I knew all her music growing up, it was just…I will never forget that moment.
It's funny, but I remember that halfway through her set, she said, "Okay. I'm going to take a break now, because I need to go nurse my new baby." So now, today, I want a mom to take her daughter to her first concert and it's going to be my concert, This is What The Truth Feels Like, and the energy that I have and the purity and the intention I have is just to give them that moment, you know? That's my responsibility and I'm taking it real seriously and I feel so grateful.
BY GARY GRAFF
http://www.musicconnection.com/gwen-stefani-album-songwriting-past-years/