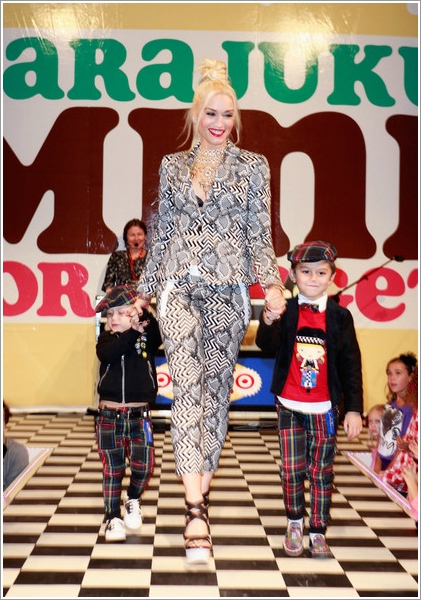 Aw,read another adorable mini-interview with Gwen at InStyle.com! It's so cute what she says about her boys inspiring her!
Gwen Stefani's new children's line Harajuku Mini for Target landed in stores this weekend, and the singer celebrated with a party at Jim Henson Studios in Hollywood. Her muses—sons Zuma, 3, and Kingston, 5, Rossdale—joined their multi-tasking mom on stage after a pint-sized fashion show. "I just love kids clothing," Stefani told InStyle.com. "When I had kids, I was like, 'Boys? What?' But I've had so much fun dressing them. I love it!" So what has the pre-school set taught her? "They teach me to mind my own business and let them dress how they want," she said. "They do their own thing. They're little humans. And it's fun to be part of it and to watch them." And they do quite a nice job!
Check out the entire Harajuku Mini for Target collection in the gallery, and shop it at Target stores and at target.com now.